By Isaiah Helm, SRS Crisafulli Applications Engineer
PERFORMANCE CURVES
Performance curves are used to predict a pump's flow as a function of total dynamic head, impeller diameter, and rotational speed.
Total dynamic head (TDH) is measured in feet and equals the total of a system's static and dynamic heads. Static head is the vertical distance the fluid is lifted, and does not change the flow. Dynamic head represents the potential head that is lost to friction between the fluid and the piping system, and increases with flow.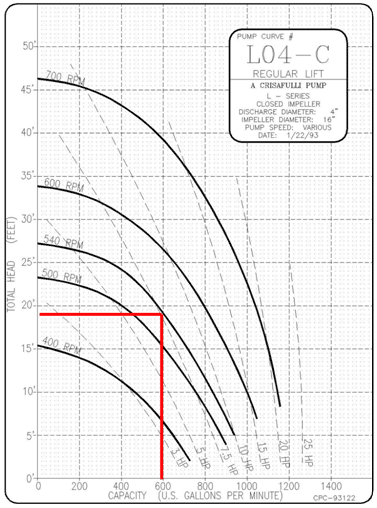 Head is equivalent to pressure, in that head in feet divided by 2.3114 equals the pressure at the pump in pounds per square inch.
The red lines on the performance curve above show that a 4 inch L-series trailer pump with a 16 inch diameter impeller spinning at 540 RPM will produce 600 GPM at a system TDH of 19 feet.
Request a consultation with one of our Applications Engineers/Specialists.
Watch a Crisafulli Trailer Pump Video.
Watch a Crisafulli pumps slideshow.