By Isaiah Helm, SRS Crisafulli Applications Engineer

The 2011 battle against the flooding Missouri, Mississippi, and Souris Rivers has been in the news. The Souris River winds its way down from Canada into the Minot, North Dakota area and then back to Canada.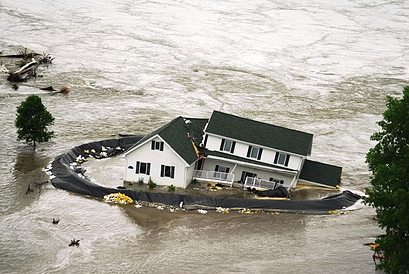 Photo Source: The Washington Post. Minot home flooded by Souris River
Spring and Summer of 2011 saw real flooding problems creating high demand for flood management PTO powered trailer pumps and accompanying discharge tubing. Demand for SRS Crisafulli's heavy duty tubing quickly outpaced supplies. As an SRS Crisafulli Applications Engineer I found myself searching for discharge tubing alternatives.
A co-worker visited the Minot, North Dakota area in July and witnessed some SRS Crisafulli Trailer Pumps in flood management action.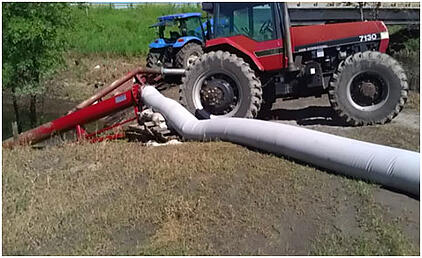 SRS Crisafulli PTO Trailer Pump with lightweight vinyl discharge tubing in Minot, North Dakota
You'll notice the pumps are not using our standard black industrial duty discharge tubing. My search for discharge tubing alternatives resulted in the light-duty tubing pictured above.
This alternative tubing was custom manufactured for the standard hose ring discharge on our 12" and 16" pumps. The ends are folded over and sewn down to combat fraying. Some advantages to this option:
Costs are about a quarter of the heavy-duty tubing price, and are more affordable when storage conditions and usage frequency result in buying new hose every time the pump is used.
Very light in weight - less than 50 lbs, compared to 150 or 200 lbs. Easily handled by one person and can be shipped rapidly via UPS rather than by a freight carrier.
Good alternative when heavy-duty tubing options are not available.
For those who use this light-weight tubing, using the following 5 tips will improve the experience:


As demonstrated in the photo above, support the hose as it exits the pump to decrease the chance of the weight and pressure pulling it off the pump.


Our standard hose clamps are designed for thicker industrial tubing and will not hold the light weight tubing without help. Solve the problem by increasing the hose thickness under the clamp by wrapping the hose at the location with thick, flexible material. Old belts or a piece from old hose work well. The light-duty tubing does have a small rope sewn into each end, but that alone is not enough.


Make sure the tubing isn't rubbing against anything hard or sharp. This applies to our standard industrial strength tubing as well, but thinner, more flexible hose will rub through faster.


Avoid letting the hose flutter as the water goes through it, which causes premature wear by being flexed back and forth rapidly. It's recommended to put some kind of restriction on the end of the hose to keep it tight and stiff as shown above.


Multiple hoses are connected by clamping each to a short section of pipe. They cannot connect to each other without pipe as is used in our standard industrial tubing.
We are pleased to now have a "Plan B" when heavy-duty industrial tubing is too heavy, too expensive, or unavailable.
Our best wishes go out to all the resilient residents of Minot - Isaiah Helm, SRS Crisafulli Applications Engineer.
Read The Washington Post Article: "Souris river flooding forces thousands of Minot, North Dakota residents to evacuate"
Watch SRS Crisafulli Pump Slideshow.
Read about SRS Crisafulli Trailer Pumps.
Fill out a Pump Application Form.