Article submitted by David Zamida, Mineral Project Manager and Mining Property Broker for BCgold.com
Waste processing and storage
A good operator first understands the unique characteristics of the mineral deposit under their management. Each deposit is unique, as is the volumes and types of waste streams it will generate. Waste characteristics to be considered include: storage structure integrity, waste chemistry (including interaction with other materials), particle size, shape, hardness, mechanical properties, specific gravity and more. To enable storage facilities to effectively withstand chemical and mechanical stresses, groundwater dynamics and affected aquifers must be identified through a hydrological site study. To ensure that equipment matches the specific working conditions and requirements, company engineers and project managers must work closely with their equipment providers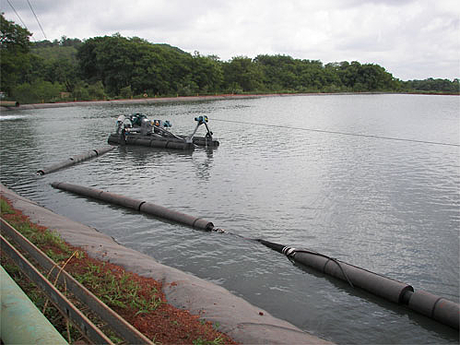 SRS Crisafulli FLUMP Dredge
in a Lined Gold Reclamation Lagoon
World class operators understand that reclamation is not only a responsibility but also an opportunity to enhance the reputation and image of the industry. On mine closure, up-to-date knowledge, technology and equipment can be used to enhance landform aesthetics and functionality, leaving the land in better condition than when they found it.
About the author

Dave Zamida is a Mineral Project Manager and Mining Property Broker for BCgold.com, which launched its first website in 2004, aligning unique mining property assets with market demand.
David's clients include major, junior, public, private and government agencies. David has earned several accreditations through The University of British Columbia's NBK Department of Mining Engineering, the British Columbia Institute of Technology and other institutions and is a member of the PDAC and CIM.
Be sure not to miss part 3 of this article, Superfund and the largest gold producing countries – subscribe to this RSS feed (above this article).
Would you like to learn more about SRS Crisafulli's involvements in the Gold Mining Industry? Contact Maureen Lundman.
Subscribe to this RSS feed and don't miss Ms. Lundman's blog article about gold pond reclamation dredging - coming soon.