SRS Crisafulli is packing personnel and equipment to exhibit at the World Dairy Expo in Madison, Wisconsin, September 30th – October 4th.
SRS Crisafulli's Booths: #726 & 727
We'll be outside with a Slurry Pump, and a FLUMP with new agitation features on display. Stop by and find out how SRS Crisafulli can solve your settled solids lagoon challenges.
Here is our encampment photo from last year's World Dairy Expo: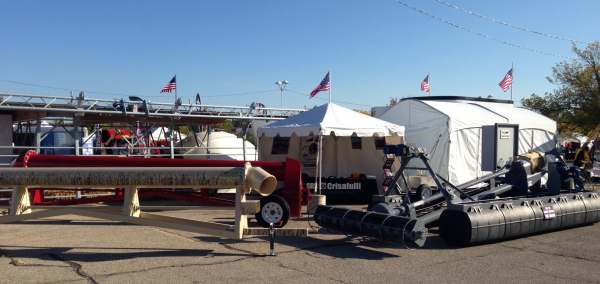 Staff attending in 2014: Dredge Rental and Sales Manager Troy Fercho, and Chad Schipman, Engineering Manager.

WEFTEC: Water Environment Federation: water quality people at the annual water quality event takes place in New Orleans, Louisiana September 29th – October 1st.
SRS Crisafulli's Booth: #7928
Staff attending: Applications Engineer Tristan Hoff, CFO Laura Fleming, Treasurer Aldace Fleming, with support from Representative Frank Vestal of Tennessee. We look forward to connecting with other Representatives and Customers at this National Event.
Also,
In the News:
Tristan Hoff, Applications Engineer, recently opened an SRS Crisafulli Sales office in Kennebunk, Maine. While attending the Western Dredging Association trade show in Toronto, Canada, writer Judith Powers interviewed Mr. Hoff for International Dredging Review.
The article and photo can be found here.
Manure Managers Expo
Finally, in early June, SRS Crisafulli participated for the first time in the Manure Managers Show in Springfield, Missouri. The Floating Lagoon Pumping System (FLUMP), competed with Agitation Boats at a Dairy Lagoon, and generated interest because of it's low-turbidity and electric approach to moving manure. Design Engineer Jordan Webb was interviewed by Douglas Hamiilton, PdD, Oklahoma State University, Associate Professor, Waste Management Specialist. That interview was filmed and will be available soon.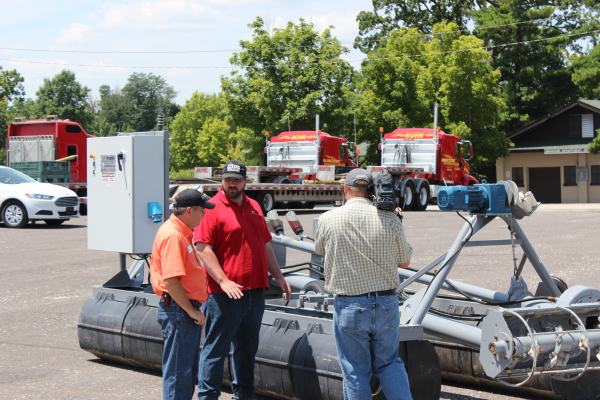 Photo: Jordan Webb and Douglas Hamiliton fiilming in front of the FLUMP.
Happy Hunting one and all.
Links to the 2 Fall Shows:
https://www.worlddairyexpo.com/