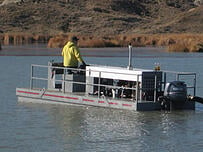 SRS Crisafulli's new shallow draft dredge, the Rotomite SD110, enables operators to dredge in small, shallow, confined areas in a minimum of 17 inches of water. This compact, self-propelled, steerable machine can dredge just about anywhere without the use of cumbersome cabling. The SD110 is made entirely of aluminum, and is equipped with a hydraulic ram that puts a great amount of pressure on condensed materials that may otherwise be hard to remove.
Designed specifically for marinas, boat slips, bays, and other confined areas, the SD110 can pump dredged sludges and slurries over substantial distances to remote disposal sites. It's propelled by a 40HP outboard engine and its 110 horsepower diesel engine that powers the pump and auger can process 85 cubic yards of sludge solids per hour.
It can dredge to depths of between eight and ten feet, depending on the model chosen. It discharges up to 1,475 gallons per minute at 123 feet of TDG (water,) and can travel up to 10 mph when not dredging.
SRS Crisafulli offers its dredge customers worldwide installation and training services, and also offers complimentary consulting services by its experienced engineers at its Glendive, MT factory. To speak with a engineer today click here.
Learn more about our dredges here:
Unmanned, remote controlled electric dredges for industrial and municipal lagoon maintenance
Self-propelled diesel dredges can dredge about anywhere without cumbersome cabling
Self-propelled, manned, 6" diesel dredge for abrasive slurrries