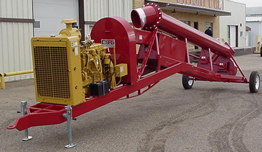 Pike's Hunting Club promises the finest duck hunting you will find anywhere - aided by planned water management and Crisafulli Pumps.
At Pike's Hunting Club in Marion, IL, the creation and preservation of waterfowl habitat, coupled with water control, are essential elements in the Club's ability to provide the best possible waterfowl hunting experience.
According to John Pike, one of the Club's owners: "No other club in the area has a system like this. We have over 2 miles of levees that allow water levels to be controlled in 7 impoundments totaling more than 100 acres. These fields are all planted in corn and plenty of grain is left standing to feed the waterfowl.
A 16" Crisafulli pump powered by a 300 HP diesel engine and two Crisafulli 12" tractor powered pumps enable us to place water where we need it, when we need it. These three pumps can move up to 36,000,000 gallons of water per day. That is enough water to cover over 110 acres with one foot of water. With this type of water control, feed consumption can be controlled and quality waterfowl hunting can be maintained throughout the season. The pumps are also used to circulate water, which delays freezing as long as possible."
Mr. Pike adds: "Our Crisafulli Pumps look like they came over on the Mayflower, but mechanically they're in pretty good shape. It has been unusually cold in Southern Illinois for the last month and we have had to pump a lot of water to keep open water around our hunting areas. Our Crisafulli pumps have been working great. I do appreciate Crisafulli taking the time to answer my questions. It is nice to know that there are still some businesses around which believe in providing excellent customer service. It is very apparent to me that your company takes this very seriously."
Crisafulli takes pride in its long history of reliable products supported by superior service. Crisafulli pumps and power units have earned a reputation for high performance, reliable service, durability and long life. We thank Mr. Pike for sharing his story with us. His Crisafulli pumps are more than 28 years old... and still pumping.
For mallards, pintail, teal, gadwall, and wood ducks, careful water management allows Pike's Hunting Club to offer some of the finest duck hunting you will find anywhere.
For details, contact:
Pike's Hunting Club, Inc.
7309 Route 37 South
Marion, IL 62959
Phone: 618-997-1124 https://www.pikeshuntingclub.com/.