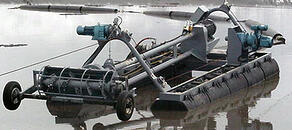 Paul Layton, Assistant Superintendent, City of Bozeman, MT Public Works Dept. Commenting on the Crisafulli FLUMP with Crisafulli's Pond Liner Protection System Purchased in 2003 for Bozeman's Wastewater Treatment Plant
"I really like the remote-control aspect of the unit. We can just have an operator sitting up here on the shore, out of the sludge, operating in a very clean environment."
"An option that we purchased for the system is the rail traverse system. We're very pleased with it; it's taken three-quarters of the work away from our dredge operator. With the touch of a button he can move it (the dredge) from one side to the other (of our lined lagoon) without even moving a step; very convenient. I wouldn't order the dredge without the rail traverse system."
"It's real easy for the operator to schedule about five (5) to ten (10) minutes once a week. That's about all the maintenance that's required. This little electric dredge is light enough where we don't have to hire a crane to move it from lagoon to lagoon. We can rent an extended-boom forklift and get it out ourselves, instead of having to rent an expensive crane."
"I'd recommend the FLUMP to most anybody. The product itself is built very well. Our new piece of equipment is doing everything that we were promised it would do. You bet! We like this Crisafulli dredge."
Update, October 2012 - nine years after the installation: "Yes, Paul Layton is still here and so is our FLUMP. Our FLUMP works hard every day. It has been a very good machine". Thanks, Tom Adams, WRF Superintendent, City of Bozeman, Montana