By Elizabeth Kaiser, SRS Crisafulli Marketing Manager
SRS Crisafulli's employees are a mix of deep rooted Montanan families, returned children and transplants. It seems those who find themselves here share common goals and values, whether it is access to fresh air and wide open landscapes or taking advantage of a current employment boom. Everyone here also values hard work, the rugged environment, and strong community.
Montana is the 4th largest U.S. state and yet is the 7th least populous. Montana's economy is primarily agriculural and resource-based, with ranching, farming, and mining foremost. We at SRS Crisafulli are sometimes asked how a dredge manufacturer ever evolved in a dry, land locked, rugged state such as Montana. We just laugh and explain we worked, we grew, we drew on that rugged initiative that defines Montana.

Photograph by William Albert Allard
Two sorrels belonging to Buster and Helen Brown have gone AWOL in the snow.
National Geographic recently published an article exploring the history of Montana's Hi-Line. The rails were an important factor in that history, and as Montana today is the 3rd least densely populated state, they are still a widely used method of transportation. "Eventually pavement as well as rails linked those communities, forming a portion of U.S. Highway 2, America's northernmost cross-country ribbon of blacktop. Within Montana, this stretch of road and railway and towns and surrounding landscape became known as the Hi-Line."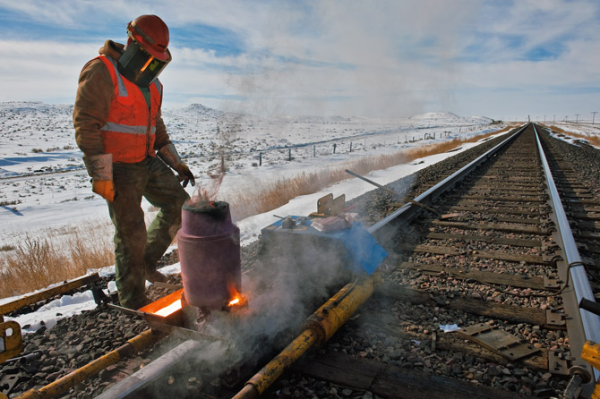 Photograph by William Albert Allard
Justin Hofeldt, a welder for BNSF Railway, repairs track near Rudyard. The rails opened this ground to homesteaders, with illusory promises of easy crops and plenty of rain.
SRS Crisafulli's own Maureen Lundman, Sales Manager, hails from Malta, which is part of the Hi-Line. Born and reared there, she and her 6 brothers and sisters went to school in Malta, her mother managed the household and her father ran the Lumber Yard. Joel Basta, a SRS Crisafulli Engineer, still works his family's dry land farm operation in Dawson County. Isaiah Helm, SRS Crisafulli Applications Engineer and his 2 brothers still participate in his family's cattle ranch outside Jordan, Montana. Larry Hegel, factory foreman and lifetime SRS employee, is the youngest of eight children raised in Glendive. These and many others at SRS Crisafulli have deep roots embedded in the culture and hardworking standards of the area.
Read more of the National Geographic article, Northern Montana's Hi-Line.
See more of William Albert Allard's pictures of Montana's Hi-Line, Riding Out Another Season
Interested in visiting the factory? Contact us.
Are you interested in SRS Crisafulli Career Opportunities?