Glendive, Montana has held the Miss Montana Scholarship Program since 2005. SRS Crisafulli, Inc. signed on as a sponsor in 2006. We were inspired in part by the model of the Blue Crew from our competitor, Thompson Pump.
Each year SRS Crisafulli invites the contestants to the factory for a tour and a photo shoot. SRS Crisafulli supports these young women in their goals for higher learning and their community volunteerism.
The contestants visit is a favorite day at the factory.
This year the Miss Montana Outstanding Teen Contestants also toured the SRS Crisafulli factory and participated in the photo shoot, with great success.
A full twelve month calendar is in the final planning stages, and will feature the ladies from both groups of contestants.
Pre-Order SRS Crisafulli's 2012 Miss Montana and Miss Montana Outstanding Teen Calendar.
View some pictures from their visit -use the stop button if they change too quickly.
Congratulations to Miss Montana 2011, Veronika Ohlinger from Cooke City, Montana. Miss Ohlinger will represent Montana at the Miss America Pageant in Las Vegas, January, 2012. She is a Montana ambassador, speaking to schools, conferences and at special events. Her platform is Inspiring America: Dare to Dream.
Miss Montana 2011 Veronika Ohlinger
Jalyssa Gorder of Sidney, Montana was named 2011 Miss Montana's Outstanding Teen at the Miss Montana Scholarship Pageant in Glendive. Jalyssa won a $1,000 scholarship. Ms. Gorder represented Montana in Orlando, FL at the Miss America's Outstanding Teen pageant in August.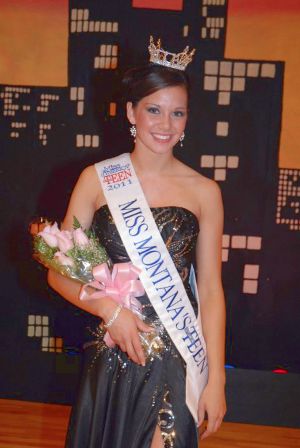 Miss Montana Outstanding Teen 2011 Jalyssa Gorder
SRS Crisafulli congratulates these young women and wishes them all the success in their endeavors.
Visit the Miss Montana website.
To join us and the Glendive and Montana communities in supporting the Miss Montana Scholarship Program by becoming a sponsor, contact:
I.M.A.G.E Productions, Inc.
P.O. Box 504
Glendive, MT 59330
(406) 939-1392