Testimonials and Case Histories

Rotomite-6000
Dredging highly abrasive mill scale. The customer purchased its first SRS Crisafulli Rotomite, a Model 180P, in August 1997, and purchased its second Rotomite, a 6000 model, in the summer of 2007.
Application and reason for dredging: The customer provides slag processing, metal recovery, material handling, scrap management, surface conditioning ("scarfing") and a wide range of specialty services to the North American steel industry. The customer uses its Rotomite-6000 to remove iron mill scale to maintain capacity in its cooling water lagoon that supplies wash water to the steel processing facility. The process helps the customer maintain the plant's cooling water capacity at satisfactory levels. They operate the dredge 1 to 2 hours per day, year around. Their dredged iron mill scale slurry is about 20% solids by volume. Mill scale is a very abrasive material that weighs 168 lbs. per cubic foot."
Quantity of material dredged: The dredging and dewatering process produces 11 tons of solids every minute.
Testimonial: the plant superintendent asserts: "The machines are very dependable, the design excellent, turning is great, and all workmanship is to be commended. If others would like to call I would be happy to talk with them."
Rotomite-6000
September 2007. A major US food processing company purchased a Crisafulli Rotomite-6000 dredge to replace two existing dredges made by another company, to clean and maintain its factory waste products settling lagoons.
Testimonial. The customer said - "The Rotomite dredge was delivered on time, per specifications, and in good condition; the Rotomite-6000 was good value, performed as expected and met the customer's needs; the Crisafulli sales staff was knowledgeable about the dredge, provided adequate technical information, and Crisafulli's Operation & Maintenance Manuals contained adequate parts/service information".
The Customer said "that in its buying decision these factors were very important - the Rotomite-6000's performance, product features, price, Crisafulli's warranty, overall quality of the product, Crisafulli's brand reputation, and availability of after-sale service and support. The customer rated these aspects of the Crisafulli's customer service as excellent - employee friendliness and courtesy, employee product knowledge, and ease of purchasing and ordering, and ease of payment. The customer was particularly pleased with Crisafulli service, parts availability, and troubleshooting knowledge of the Crisafulli Factory staff."
Rotomite-6000
Customer: Georgia Dredging And Dewatering/Eco-Vac. Type of Facility: Environmental services & turnkey dredging & dewatering services. David Grapengeter, President of ECO-VAC, Inc., and Jay Matthews teamed up to build a strong full-service dredging and dewatering company capable of meeting the needs of industrial, municipal and agricultural applications.
Georgia Dredging came to SRS Crisafulli asking how to get into the dredging and dewatering business. Several meetings later, the principals decided to invest in a dredging system and a dewatering device. The system had to be completely portable as they were intent on doing work anywhere they could secure projects.
The ROTOMITE-6000 was the perfect choice for their needs. The unit was ordered with the most durable floating discharge pipe available for long life under 'load and unload' applications. The polyethylene pipe with integral foam flotation system insured them a complete system that would be long lasting and durable.
Testimonial.Eco-Vac President and Owner, David Grapengeter, reports that the ROTOMITE has the capacity to take out a large amount of solids in a short time. The ROTOMITE-6000 had remained busy since its delivery in the spring of 2002 to a municipal job site in northern Georgia. The owners are now looking at maintaining marinas, as well as municipal water and wastewater ponds, in Georgia and contiguous states.
Jay Matthews, President, says of his ROTOMITE-6000, "It's a great machine. Feel free to have anyone contact me for a reference."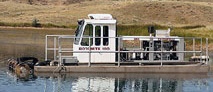 Rotomite-180 P
Alumina Partners of Jamaica, Construction Department, June 25, 1996, Gary Benson, Fax 809 962-4114.
"The Rotomite 180P has performed very well for us to this date. Our application is a very bad environment dredging in a caustic soda mud lake. All components are fine to this point except the few aluminum parts, which we expect to be sacrificial.
This dredge is highly recommended by us for our operation and needs. It is well suited for a two man operation and does not take a competent person very long to get the feel of operating the cutterhead under thick mud".
Rotomite-6000
Customer Comparison of Rotomite-6000 to competitive products. Crisafulli Sales Engineer's field report (May 2003).
Testimonial. "The Rotomite-6000 was a pleasure to operate. We dredged bottom ash and silt. The Rotomite Cobra Cutterhead's down pressure and articulation capabilities make the Rotomite-6000 effective against crusted sludge.
"The Customer hated the competitor's dredge that they rented last year; the hydraulics were plumbed wrong, not corrected for 3 weeks during which time the customer couldn't dredge. When finally fixed, customer's dredge was ineffective because its cutterhead was on a cable with no down pressure, and no articulation.
In addition, it was difficult to use competitor's drive system. The competitor's dredge had no traction in ponds without a solid bottom. When maneuvering it was a constant problem to keep the float line from getting tangled by the drive system. In addition, the customer found the competitor's float-line to be awkward to handle; it was 50' sections with floats clamped around it. The customer had to use a backhoe to move the long, heavy tubing sections; and the floats continually moved to inconvenient spots on the tubing.
Our customer was pumping through approximately 2 miles of pipe (the majority was down hill) with two booster pumps in the pipeline. The Rotomite-6000 pumped 1,700 GPM of slurry through 220 feet of float-line with 10' of lift."
"The customer remarked favorably regarding improvements Crisafulli made since the Rotomite 180P and was impressed with the Rotomite-6000's production capabilities."