Crisafulli Rotomite-SD110 Dredge Case Histories and Testimonials
"We appreciate the job that Larry and Nick did while they were here. They were extremely helpful, answered every question we threw at them, and were a great asset in commissioning the dredge. We appreciated their helpfulness and the job they did. I also appreciate the help that you gave us along the way. You answered multiple questions since we ordered and received the dredge 2 years ago. I have never run into customer service equal that of Crisafulli. You have all done a great job, and keep up the good work!! Thanks again!" Jeff McGriff, Project Engineer, Lion Oil Refinery
Case History – Rotomite-SD110 Used In Lion Oil Refinery Arkansas USA
Jeff McGriff, Project Engineer, reported that the dredge would be used to "clean two 70-year old industrial storm water clay-lined lagoons that have not been cleaned for 20-30 years. One lagoon is 10 acres; the other is 2 acres." "The depth of the lagoons (from surface to bottom, excluding sediment) is 8-9 feet. The number of feet of water between the surface and the top of the sediment is 2 feet. The material to be dredged is sandy, silty, and "sludgey" – like a thin pudding. "They plan to dredge 4-hours a day, year round, for 10 years. They have "hot spots" they intend to dredge first, and after they 'get a feel for it' they will develop a regular process. Mr. McGriff reports that there are big chunks of concrete in one corner and some stumps in another corner. Lion Oil's hope is that by dredging the lagoons, they will be able to remove the concrete and stumps – thereby creating more capacity in the lagoons. Slurry will be discharged to a holding pond where the dredged material will be treated and pumped out. "Lion oil's goal is to develop environmentally friendly and healthy practices, become compliant with EPA regulations, and increase the capacity of their lagoons" according to McGriff. Mr. McGriff said "the purchase of a dredge is a much more sound financial solution compared to alternatives such as draining the lagoons and dealing with the environmental effects as well as the expenses of hiring others to cleanup and cart the dredged material away."
After SRS Crisafulli personnel trained Lion Oil staff to operate the dredge and helped put the Rotomite-SD110 into operation, Jeff McGriff wrote SRS Crisafulli's Sales Manager the testimonial shown above.
Case History - Rotomite SD-110 Used In Domestic Copper Mine
Application. A domestic copper mine with a tailings dam that overflowed onto adjacent forest service land had constructed a new dam to hold additional tailings. The customer needed an immediate solution to the overflow problem to avoid fines. Because the encroachment area was odd shaped with an uneven bottom and some very shallow points, we recommended Crisafulli's aluminum hull, self-propelled, shallow draft dredge, the Rotomite SD-110.
Composition of dredged material. The tailing material was comprised of 31% sand, 59% silt and clay, and 10% gravel, with a PH level of 8.5-11 due to lime treatment to enhance the copper floatation process.
Functioning of Rotomite-SD110. The Rotomite SD-110 was placed in the tailings encroachment area to dredge and pump tailings over the new dam's 15' wall. The dredged slurry was then pumped 900' to disposal sites. Tailing material ranged in depth from a foot to more than 30 feet. The self-propelled, shallow draft dredge's ability to maneuver throughout the encroachment area was key due to the area's terrain and varying water depths, since it was necessary to keep water levels from rising to avoid further encroachment of the slurry onto adjacent forest service land. Dredge operators were able to move the dredge around with minimum effort and continue dredging as water levels varied.
Results. The customer was very happy with the performance of the Crisafulli Rotomite-SD110 dredge. The customer removed 100,000 cubic yards of dredged solids from the encroachment area in a little over 3 months, achieving the customer's goal in less time than was budgeted.

Photo of Rotomite-SD110 in Factory.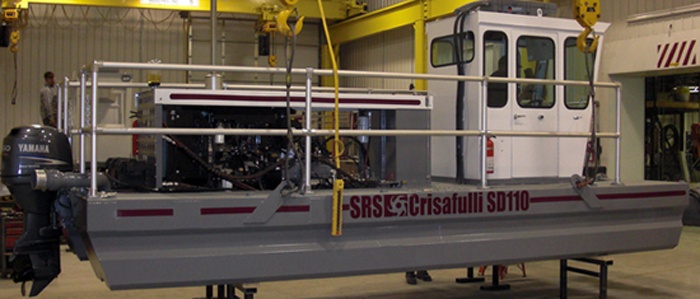 Case History – Rotomite SD110 International Sale - Municipality
After a year of close collaboration with the prospective customer, SRS Crisafulli built and shipped a Rotomite SD-110 shallow draft dredge to an Asian customer in 2013. Three international firms played key roles to close the deal including SRS Crisafulli's authorized International Factory Representative. The prospective customer needed to remove sediment at its Treatment Plant. Sediment-bearing water from a regional dam and river traveled more than 30 kilometers to the Plant. The river also carried silt to the treatment Plant where sludge was collected at the bottom of sedimentation basins. To achieve acceptable, sustained settled water quality, to preserve basin capacity, and to comply with environmental regulations, the Plant needed to clean its sedimentation basins twice a year. SRS Crisafulli provided detailed product specifications and capabilities for the Rotomite SD-110 dredge, and defined what made the Rotomite SD-110 a superior dredge for the application. After SRS Crisafulli satisfactorily answering all the requests, the customer purchased the Rotomite SD-110. The Rotomite SD-110 equipment package provided a high-performing dredge pump able to move 1500 gpm at 80 ft. TDH in water. The cutterhead was 90-inches wide with a 15-inch pump opening for high sludge production. A unique hydraulic thruster enabled the dredge to be driven like a boat. Pursuant to SRS Crisafulli's superior worldwide service, a SRS Crisafulli Factory-trained engineer travelled to Asia to support the installation and to commission the Rotomite SD-110 dredge.
Case History Application – Municipal Water Treatment Facility, City of Troy, NY.
The City of Troy, New York purchased a SRS Crisafulli FLUMP in 1991, and a second Crisafulli dredge, the Rotomite-SD110, in 2014. The FLUMP is a 40 HP, 4" model with wheels attached to the pontoons for easy transport around the facility. The Troy water treatment facility has two lagoons. The FLUMP is in the lagoon closest to the storage tank (See photo). The second lagoon is further down the hill, is irregularly shaped and its water level fluctuates greatly. SRS Crisafulli built a 4" J-Series artisan pump to achieve 800 GPM at 120' TDH, which is a higher head capability than Troy's FLUMP, and is able to maneuver around the upper pond without a cable traverse system. The application was to remove sludge from the upper lagoon and pump it to a tank for dewatering using a press. As the capacity of the plant increased, the FLUMP and press could not keep up with the sludge accumulation. The FLUMP maintains the tank's water capacity and the Rotomite fills geotubes, which enable dried solids to be removed for disposal. The Rotomite's variable speed pump maintains a consistent flow of slurry into the geotubes. With the two dredges, the City can keep its two lagoons cleaned and sustain the required drinking water capacity.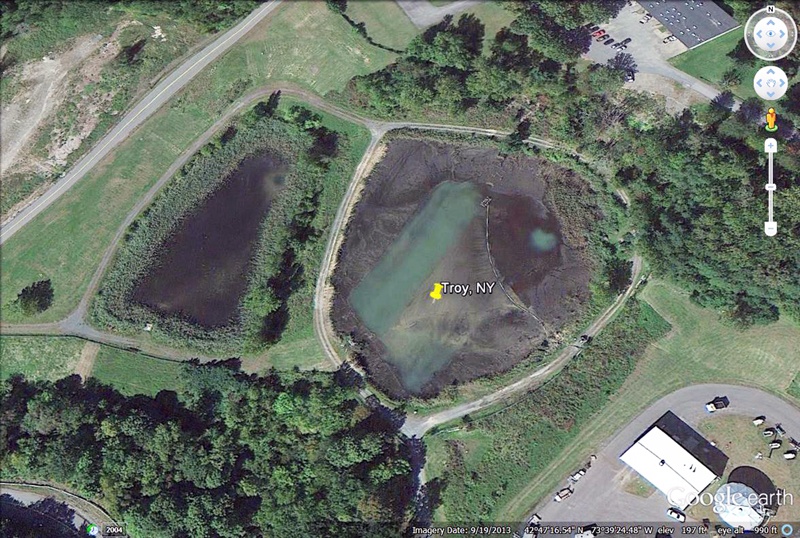 Case History Delegal Creek Marina The Landings, Savannah, GA 31411
Application. Remove silt, sand, and sediment from 74 boat slips in a private marina. Special problems: Avoid disturbing the docks, and avoid obstacles. Dredging takes place in a saltwater tidal environment. Additional purpose: Meet EPA cleanup requirements. Operator's station with custom ergonomic realignment of controls; Dredge sludge pump volute/case constructed of chrome carbide overlay plate; Cathodic protection (Zinc Anodes) and a rust preventative coating beneath the dredge's epoxy paint; All fittings of stainless steel and/or aluminum to resist corrosion; Unit coated with Amerlock 400 (base coat) and Amercoat (top coat); Cutterhead shroud and drive couplers are stainless steel; auger tube, motors and tines in steel coated with Amerlock 400 and Amercoat; Sound reducing panels with a target of 87 dB or less from 200 feet distance; Set up for traverse winch were guides at the end of the platform; A belly pan below the platform/ engine compartment to prevent saltwater contact with the diesel engine.
Case History Application - Dredging Silt and Debris From Missouri River
Problem to solve. In Montana two neighboring Conservation Districts in the Big Sky State forged an innovative partnership. The Missouri and Yellowstone rivers deposit silt and debris throughout the year, and, even when there is normal water flow, irrigators need to clear away debris to use their pumps. The situation is worse in years of drought or low water level. Sometimes irrigators have to trench from their pump sites to the river to access needed water. Traditionally, this has been done with draglines and backhoes (and even dynamite), and the task has become more expensive and problematic each year. Excavated debris and silt was piled on riverbanks. The mounds created could even change the river patterns to create more silt problems.\
Photo below, Rotomite-SD110 "spouting" - i.e., side-casting dredged slurry.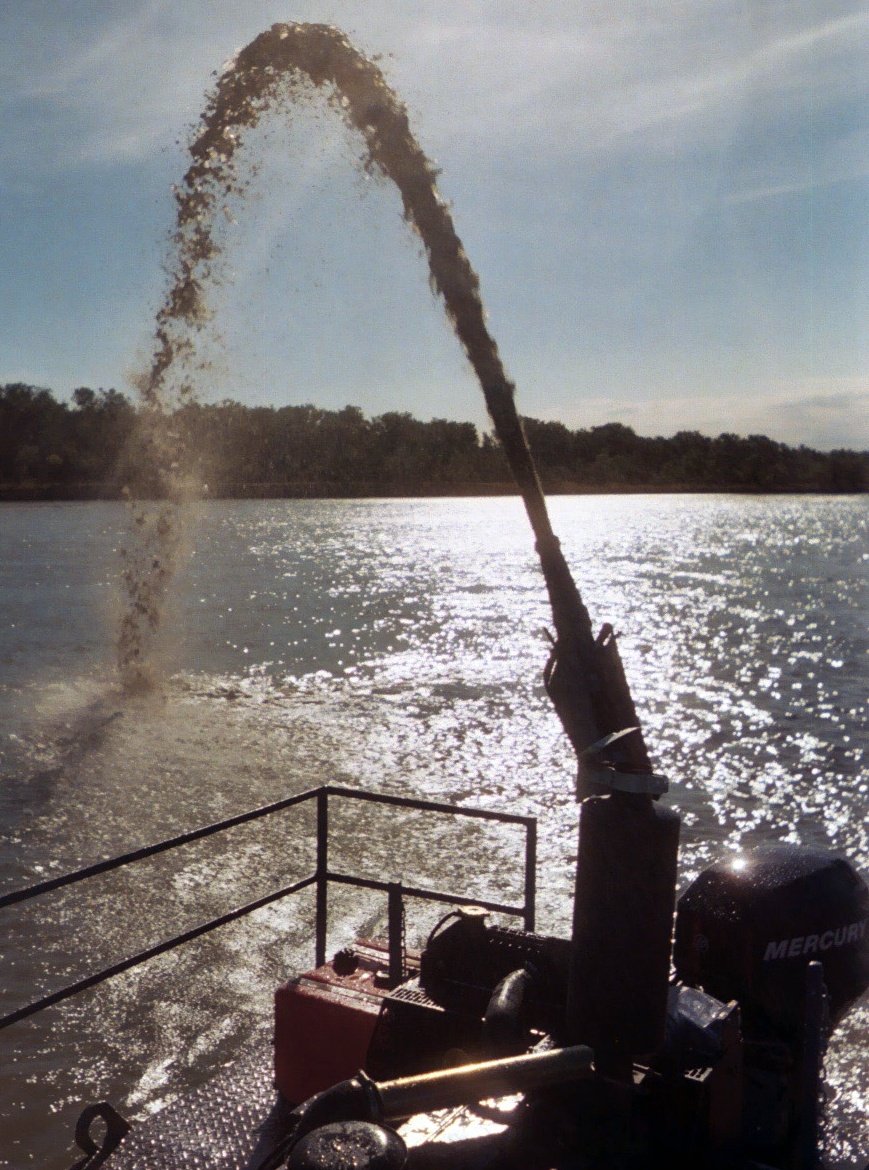 Solution. In 2006, the Richland and Roosevelt County Conservation Districts acquired a Rotomite-SD110 dredge from SRS Crisafulli. The decision enabled irrigators with property along the Missouri River from Fort Peck to the border, as well as irrigators who worked stretches of the Yellowstone River that flow through Richland County, to use a modern, environmentally friendly method to access the water.
Scope of Problem. There are more than 150 pump sites on the Missouri River from Glasgow, MT, to the Montana-North Dakota border, and almost 20 sites along the stretch of the Yellowstone in Richland County. In years of normal precipitation, these sites must be cleaned to be of any use to irrigators, and the problem is worse in times of low water flow. Local, state, and federal agencies were all interested in the solution proposed by the Richland and Roosevelt Conservation reaching available water from rivers is not confined to eastern Montana. There are many regions in North America with a similar problem that could be solved in a similar way. Silt and debris are natural problems for most rivers and streams; their efficient removal makes pumping good water much easier for irrigators Collaboration. "This dredge project is a good example of what Conservation Districts can do when they work together," comments Vicki Marquis, watershed coordinator for the Missouri River Conservation District Council. "Federal, state, and local entities worked together to pull this off."
Performance of Rotomite-SD110. The small, maneuverable Rotomite- SD110 dredge on the Missouri and Yellowstone Rivers cleaned about 70 cubic yards of dredged solids per hour, and disposed of the dredged silt and debris in a way that does not build large, potentially hazardous mounds on the immediate riverbank. "Many customers, such as municipalities, counties, and industrial entities, have their own people who can run a small dredge," advised Mike Mills, director of engineering and manufacturing at SRS Crisafulli. "Most customers do not hire outside contractors to run the equipment. On river projects, knowing the river and its idiosyncrasies is a major advantage, and Counties and Conservation Districts use such people as temporary operators. It's not difficult to run the dredge. SRS Crisafulli has hundreds of people worldwide who run its dredges successfully without having specific qualifications in dredge operation."
Photo below shows channel dug by Rotomite-SD110 through the mud of the Missouri River to "rescue" a boat locked in the mud.
Opportunities. The potential is exciting. With more periods of drought forecast for many parts of the country, the ability to get water from available sources is of paramount importance. What frequently prevents those involved in agriculture's multifaceted sectors from getting the water they need is silt and debris in the water. The example set by the two Conservation Districts in Montana could be the solution for many others in similar dry situations