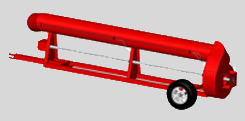 SRS Crisafulli's Integrated Product Solutions - To remove water, soft and abrasive material, sludges, and slurries from Industrial, Municipal, Agricultural, and Government Lagoons, Ponds, Lakes, Canals, and flooded and flood threatened areas. And to irrigate farms and ranches.
Let our Application Engineers help you select the best pump to achieve your pumping goals.
Go to Crisafulli's Searchable Product Catalog to find electronically the Crisafulli pump that offers the capabilities and features you seek.
Return to SRS Crisafulli Trailer Pumps.
Performance capabilities. See below for the GPM and TDH capabilities of each of 17 models. See individual pages for each model for solids passing capability of each model as well as standard options for each model.
Description. CrisafulliTM Standard Industrial Duty Short Hitch Trailer Pumps volute and impeller are manufactured from 3/8" A36 mild carbon steel. The volute and impeller are mounted on a 15' long, single axle trailer with a heavy duty driveshaft supported by four sealed, anti-friction ball bearings (five on double suction pumps), with remote grease lines extended to the front of the pump, telescopic PTO shaft, pin-type hitch, trailer jack and an 11' long discharge pipe with an oval band to adapt to CrisafulliTM discharge tubing. The pumps are available with 3/8" thick industrial duty pump volute and impeller parts. Standard Duty models are powered by tractors whose PTO shafts turn at 540 RPM.
NOTE: The trailer units are not DOT approved for travel on public roads.
| | | | | | |
| --- | --- | --- | --- | --- | --- |
| Pump Size Inches | Flow - GPM | TDH - Feet | Description | SRSC Part Number | Est. weight - pounds |
| | | | Regular Lift 540 RPM pump | | |
| | | | | | |
| | | | Regular Lift 540 RPM pump | | |
| | | | Intermediate Lift 540 RPM pump | | |
| | | | | | |
| | | | Regular Lift 540 RPM pump | | |
| | | | Intermediate Lift 540 RPM pump | | |
| | | | | | |
| | | | Regular Lift 540 RPM pump | | |
| | | | Intermediate Lift 540 RPM pump | | |
| | | | | | |
| | | | Regular Lift 540 RPM pump | | |
| | | | Intermediate Lift 540 RPM pump | | |
| | | | | | |
| | | | Regular Lift 540 RPM pump | | |
| | | | Intermediate Lift 540 RPM pump | | |
| | | | | | |