By Elizabeth Kaiser, SRS Crisafulli Marketing Manager
We all want to find what we are searching for - quickly and easily.
With our new Crisafulli online catalog, now you can - at least when you are searching for Crisafulli dredges, pumps, power units and/or parts and accessories. The new catalog allows you to search our Crisafulli product list using your specifications, features and options that match your product requirements.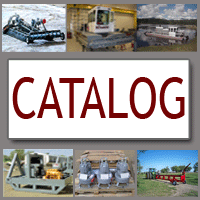 Navigate to the product catalog from the SRS Crisafulli website. You can search for your product using keywords or you can browse through the catalog.
Let's explore the keysord search approach.

In the upper left corner of the catalog you will see Search Catalog with a search text box below.
Type your keywords in the text box and then click the 'Go' button to initiate the search. You can use generic terms, such as "PTO trailer pump", Crisafulli product brand names, such as, "Rotomite 6000", or product specifications, such as, "50 hp power unit". For this example, we've typed "PTO trailer pump". The catalog displays a list of Crisafulli products matching our keywords, organized by product line.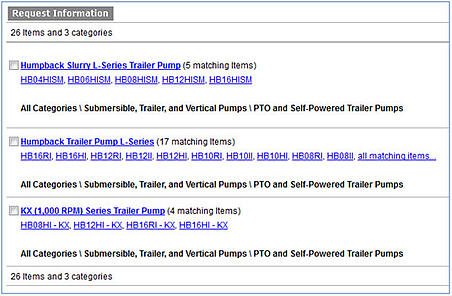 We realize now that we're actually interested in Humpback trailer pumps, so we click that heading and get the following list.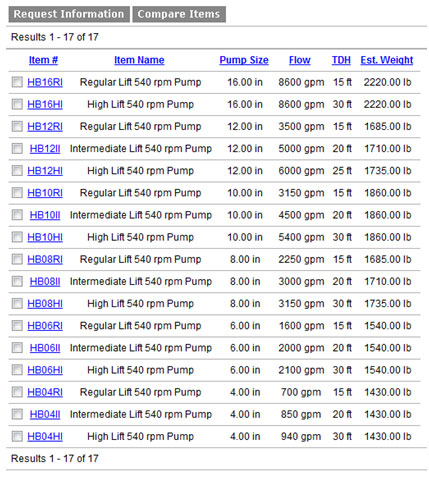 From this screen you can compare items based on the results from your search criteria. For our example we want to narrow the serach further and compare just the 12" pumps.
Check the boxes in the first column for each of the products with 12" pumps, then click the 'Compare Items' button at the top of the list. You will see a side-by-side comparison of Crisafulli 12" PTO Humpback Trailer Pump Specifications.


See larger example of side by side comparison.

Now you can see which product best fits your requirements. To request more information, check the boxes directly below the product images and click the 'Request Information' button at the upper left.
Give the Crisafulli Product Catalog a try!